blog archive
04/19/2018 05:03 PM
Earth Day Celebration and Promotions!
Our favorite day is here! Happy Earth Day!
Every year Earth Month reminds us how far we have come in changing our consumption habits and living a more
sustainable

life
. Earth Day is April 22nd and we sure hope you celebrate!
Since most straws are used for only a couple minutes of enjoyment and then tossed in the trash, we chose over 11 years ago to do something about it. It was our ACTION we chose to take. We chose to make an alternative to plastic straws, something beautiful and reusable. While seeming small relative to the larger single use plastic problems, our glass straws have been shipped around the world and have been directly responsible for thousands of conversations about reducing single-use plastics and they have prevented hundreds of thousand of plastic straws from being used. Plastic straws have been banned in many cities all over the world. This has directly helped the conversation around single use plastics take the world wide stage.
Checkout our different product promotions
for Earth Month!
Coupon code is: ForEarth
*Note: this is a better discount than what is being offered on our website so be sure to use this coupon code.
Earth Straws are great for kids and there little cups! They are also great for tea and cocktails!
FREE
Earth Straw
with every $25 Purchase!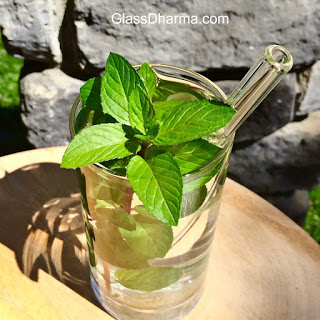 With orders up to $25 - 1 Free Earth Straw
$25.01 - $50 - 2 Free Earth Straws
$50.01- $99.99 - 3 Free Earth Straws
$100+ gets Free Set of 4 Earth Straws with Cleaning brush.
*No limit, you just need to make a qualifying purchase of $25 per free straw!
*You need to request your straw in the comments section of your order and clarify what diameter you would like (12mm Smoothie or 9.5mm Iced Tea)
*Promotion ends 4/30/2018
Orders $100 plus get free shipping &
---
03/29/2018 12:30 PM
Guest Blog: A New Goal: to Stop Sucking
School: Dos Pueblos High School
Title: A New Goal: to Stop Sucking
Summary: In 2016 I bought my first glass straw from
Glass Dharma
. I bought it because I suddenly couldn't drink smoothies or iced coffees from a plastic straw without being plagued with that all too familiar sense of environmental guilt. With each sip, the plastic straw between my lips became increasingly more repulsive. When I first began using my new glass straw in public, I realized that it served not only as a sustainable alternative to plastic, but as a great conversation starter. People would see my straw and ask me, "What is that?" "Where did you get it?" and "Why do you use that?" I was presented with so many perfect opportunities to talk about one of my favorite subjects: consumer consciousness. People were curious about my glass straw, so I would tell them about the environmental costs of single-use plastic, and the power that we as consumers have to reduce its production. Now,

two years later

, I have completely eliminated my consumption of single-use plastic straws. By investing in a glass straw I've made drinking smoothies significantly more enjoyable, decreased my carbon footprint, and engaged countless people in sustainability dialogues.
No no no no please don't--- I don't need one of those actually, thank you. Yes, I'm sure I don't want one, go ahead and take it back. I brought my own with me. I'm serious! It's in my purse, I'll show you. I keep it in this little hemp pouch to protect it. See? It's cute, right? Now I'll go take these back. Yes, both of them! Come on, you care about the sea turtles right? Well then give that to me, it's time for you to stop sucking. Yes, stop sucking!!!
By 2050 there will be more
plastic
in the ocean than fish. I know it doesn't seem like that big of a deal to use that one plastic straw, but it is a big deal! Each plastic straw that you use will take up to two hundred years to
decompose
. Do you see why that's a big deal?
For every single smoothie you drink with a plastic straw, you ...
---
11/17/2017 02:13 PM
Make sure to take advantage of this amazing deal!
We set up a sweet eco-friendly gift package for you!
Order any straw up to 7" long and a brush and get a free Shorty Cream color hemp sleeve as pictured by writing in the comments "Free hemp sleeve".
**Value of $16 each**
Eligible straws include:
Earth Straws 5" (+/- 1/4") in 9.5mm or 12mm
Simple Elegance 7mm x 6.25"
Decorative Dots 7mm x 6.25"
Lid Straw 8mm x 7"
Simple Elegance 9.5mm and 12mm in 6.25" and 7".
We recommend these straws for cocktails, children and even tea and coffee!
There is a perfect straw for everyone!
**Sets of 4 of any of the above would also qualify for a free Shorty hemp sleeve in Cream color with a request in the Comments section.
*Sale ends 11/30/2017
50% off OJT Straws
Set of 4 was $29.99 - now ONLY $15.00!!
Through the years, GlassDharma has strive to produce the best quality glass straws possible. Needless to say - that in that process of training employees, we have accumulated quite a few straws that did not pass our stringent QC standards.
We refer to them as OJT straws (on the job training). F
or many it would be hard to tell why they are considered seconds!
These OJT Straws go through the same exact processes
that all of our industry leading straws go through!
They ARE guaranteed not to have any cracks.
They are structurally just as durable and safe as our regular straws.
You are welcome to purchase more than 1 set as long as supplies last.
Use 50% off coupon code: OJT50
You can purchase as many as supplies last
This pre-bundled set includes:
2 - 9.5 x 9" Ice Tea Beautiful Bends
2 - 12mm x 9" Smoothie Beautiful Bends
(Value if from regular stock would be $42!)
The finer print:
This bundle does not include a cleaning brush but can be added to the cart by selecting "Continue Shopping" and then "Accessories"
These straws DO NOT come with our satisfaction or breakage guarantees.
All straws are sold as is and do not include boxes.
All sales of cosmetically challenged straws are final.
No substitutions please
Expires 11/30/2017
---
03/30/2017 02:22 PM
Earth Day 2017 Multi-Media Contest
****** Deadline Extended to April 30th ******

You probably know by now that 500 million straws are used and discarded every day in the United States alone. That's 175 Billion a year filtering into landfills and littering our waterways and oceans *TheLastPlasticStraw.org Most of these straws are used for only a couple minutes of enjoyment and then tossed in the trash.

All around the world individuals, companies, non-profits and even governments are working to ban single use straws! We are all chipping away at this problem from every angle and it is working!

This year we were thinking of how helpful it would be to have more multi-media (videos and graphics) to share with information about single-use plastic straws. SO, we will be hosting a month long contest, collecting submissions of informational videos and or graphics. We will choose 1 Grand Prize winner and 2 Runner-Ups.

** Over $200 in prizes ** See list of prizes below **
We will also feature these winning submissions along with others that inspire us on our website, social media and newsletter campaigns. Please join us in helping spread the word about the negative impacts of plastic straws and how we can change our habits!
2 Entry Options:
- 1 Minute YouTube Video OR
- 1 Informational Graphic
(Graphic must be at least 800x800 pixels)


Some graphic examples:


Qualifying Entries MUST:
1. Be ORIGINAL work
2. Include educational information about the effects of plastic straws AND what people can do to help (BONUS points for including GlassDharma straws)
3. Submit YouTube link and/or graphic file by emailing them to earthdayglassdharma@gmail.com. Please include your full name and mailing address (See below for international submissions).
4. Bonus: Share to social media: Either Facebook, Instagram or Twitter. You have to tag @glassdharma and use hashtag #GlassDharmaEarthDay2017.
5. Be received by 4/30/2017 **extended deadline**.



* There is no limit on entries. For example, you can enter multiple videos and/or multiple graphics - each will be a separate entry.


* For international participants we will award 2 $75 GlassDharma gift certificate to our favorite video and favorite graphic submissions!
* We will announce the winners by May 1st and ship the prizes/email gift certificates the first week of May.
Prizes:
1st place winner will receive:
$50 Gift Certificate to GlassDharma's Webstore
Varity Pack of Kombucha from Clearly Kombucha
1 Snack Bag and 2 Sandwhich Bags from Stasher Reusable Silicone Bags
1 Set of 20 Pincinox Stainless Steel Clothes Pegs (Pins) from StainlessSteelpegs.com.au
1 Variety Pack of 12 Health Bars from GoMacro
1 20 oz. Cruiser from HealthyHuman
1 Set of 3 Reusable Lunch Boxes from EcoLunchBox
1 Infinity Scarf from Synergy Organic Clothing
2nd place winner will receive:
$50 Gift Certificate to GlassDharma's Webstore
1 21 oz. Stein from HealthyHuman
Shampoo from Green and Gorgeous Organics
Organic Laundry Starter Kit from Buckaroo Organics
Lelani and the Plastic
Kingdom by Robb N. Johnston

3rd place winner will receive:
$50 gift certificate to GlassDharma's Webstore
1 Tea Towel from Kitchen + Kraft
The Complete Idiots Guide to Juice Fasting by Steve
Prussack and Bo Rinaldi

GlassDharma was founded on the idea of starting with something small, simple and ordinary: a drinking straw! Replacing this one everyday s
ingle-use plastic item with a reusable alternative has become a "teaching tool" that inspires many to make a switch toward reducing waste and eliminating the need for plastics in general. GlassDharma's vision of a clean planet and healthy environment for all who live here is reflected in every straw we sell. Please join us in our call to end single-use plastic straws by participating in our Earth Day contest
!